The speed of the trend is incredible. If you used a USB drive as your main accessory five years ago, it would be considered a great device, but people will think you are outdated if you do it now. Information has always been and will remain critical in the business world.
Still, the way information is accessed changes, and companies immediately adopt cloud hosting services to reduce costs, consolidate bills, and ensure server availability when needed.
Cloud partners who wish to migrate from traditional services to cloud platforms. AWS and Salesforce, CTOs always want to know who is the best cloud provider and which one they can choose as the best platform on the market. Blog posts contain informative content that can help you make sound business decisions
Leading cloud service providers
In order to keep pace with the post-COVID market, most IT companies are adopting and using cloud services to simplify working and collaboration at home. Cloud infrastructure greatly accelerates remote working environments and video conferencing. In addition to adaptability, availability, and reliable safety, the company also views the cloud platform as a trusted data center. Some of the best cloud services:
Salesforce
Amazon Web Services
SAP
Google Cloud Platform
Microsoft Azure Cloud
I'm here to introduce you to all the information about Amazon AWS and Salesforce and whether you should adopt AWS Cloud or Salesforce + AWS.
Salesforce CRM Introduction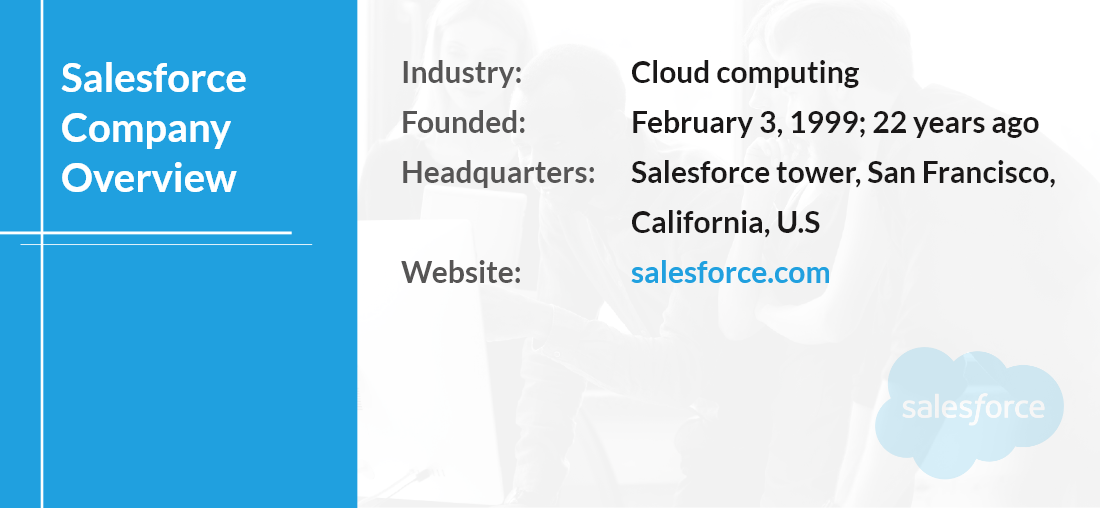 Pros of Salesforce
Flexible
Easily manageable
Innumerable options
Standard API Links
Cons of Salesforce
Costly and expensive
Payment for each add-on
Complicated configuration
Time-consuming
Poor customer support
Amazon AWS Introduction
Pros of AWS
Extensive
Cost-Effective
Global Leader
Security
Innovation
Cons of AWS
Certain limits by default
Security issues
Technical Support Fee
Cloud Computing Issues
Similarities- Salesforce vs AWS
There are few similarities that Salesforce and AWS have. Few include, ➙ Both of them, i.e., AWS and Salesforce, are cloud computing services and provide valuable certifications.
➙ Both stand as a global leader in terms of service in the cloud market: Salesforce for customer data and AWS for cloud infrastructure.
➙ Both of them support and favor the best app deployments.
➙ Salesforce AWS can both handle cloud-style operations.
Salesforce vs AWS- The contrast between Salesforce and AWS
Salesforce is a company that provides a large number of apps for these companies that provide PaaS and SaaS. In contrast, AWS (Amazon Web Services) is a cloud service platform that provides IaaS.

AWS is completely focused on base, while Salesforce is more focused on client progress.

AWS provides fast, clear, and affordable access to accommodation, virtual devices, and apps hosted in the IaaS cloud. On the other hand, Salesforce is the SaaS you want to build with PaaS.

Organizations are very happy that they connect to AWS every day because Amazon has everything that allows them to beat software packaged in the cloud. Instead, Salesforce aims to be a place where companies can build and store their next-generation applications.
The choice between Salesforce vs AWS depends on the number of skills and characteristics of these two cloud services. However, there is no doubt about it. Salesforce exceeds the market requirement of AWS. If you want to know more about both these technologies, you can refer to the link mentioned above.
#salesforce #aws #crm #devops #softwaredevelopment #organizationgrowth